Popular Electronics
Jun 20
Pop Tronics Equipment History (2012)
This is the newest edition to my ever growing collection of musical devices. This sampler is great. Very easy to use with plenty of room for samples, up to one gig per card. I've been using an MV-8800 for a while now, but it's huge. This sampler is very portable, it even takes batteries. I've loaded up beats for entire songs on this. That way at the press of a button I can play a live hip hop show. I'm really digging the time stretching abilities of this machine. The MV-8800 can time stretch as well, but this machine is much more intuitive than the MV-8800. It's really simple to operate right out of the box. I'd recommend one to anyone interested in sampling.
Apr 10
PT & FMMF 2012 Report
Just a quick update for all you FMMF fans. This past weekend we started recording two brand new Funk Magnum Mother Fuckers/Pop Tronics tracks. In addition I've been working on several new beats with the Yamaha QY70. Also a few weeks ago I mentioned a new video. Well I filmed some tests, but that's as far as I got. It's still a legitimate project, but I just haven't started. I've been busy recording with my rock band The Furies. That album should be out by this summer. 
Mar 12
Pop Tronics Equipment History (2012)
Last week I found this interesting little tool.
The Yamaha QY70
This thing is a complete 16 track sequencer that's about the size of an old 1989 Gameboy. It has a fairly large tone library, but it's tones are the basic Yamaha keyboard tones. Similar to what you'd find on a cheap Yamaha or Casio keyboard. Of course that's not my favorite tone bank in the world, but it has MIDI. I can write a song on the go, then come home and transfer it into one of my bigger sequencers with better tones. It has a two octave mini keyboard, which is polyphonic so you can input multiple sounds at once. It can record, step record, and even overdub. Best of all it runs on batteries so I can take it on the train and keep working. Here's a little demo I found on Youtube.
Mar 02
Video Music
I don't want to say to much just yet, but I started filming a new video last night. Just a fair warning that this is in the near future.
Feb 13
Pop Tronics Equipment History (2012)
Ah hahahahaha, this weekend I got my hands on a Digidesign DIGI002 .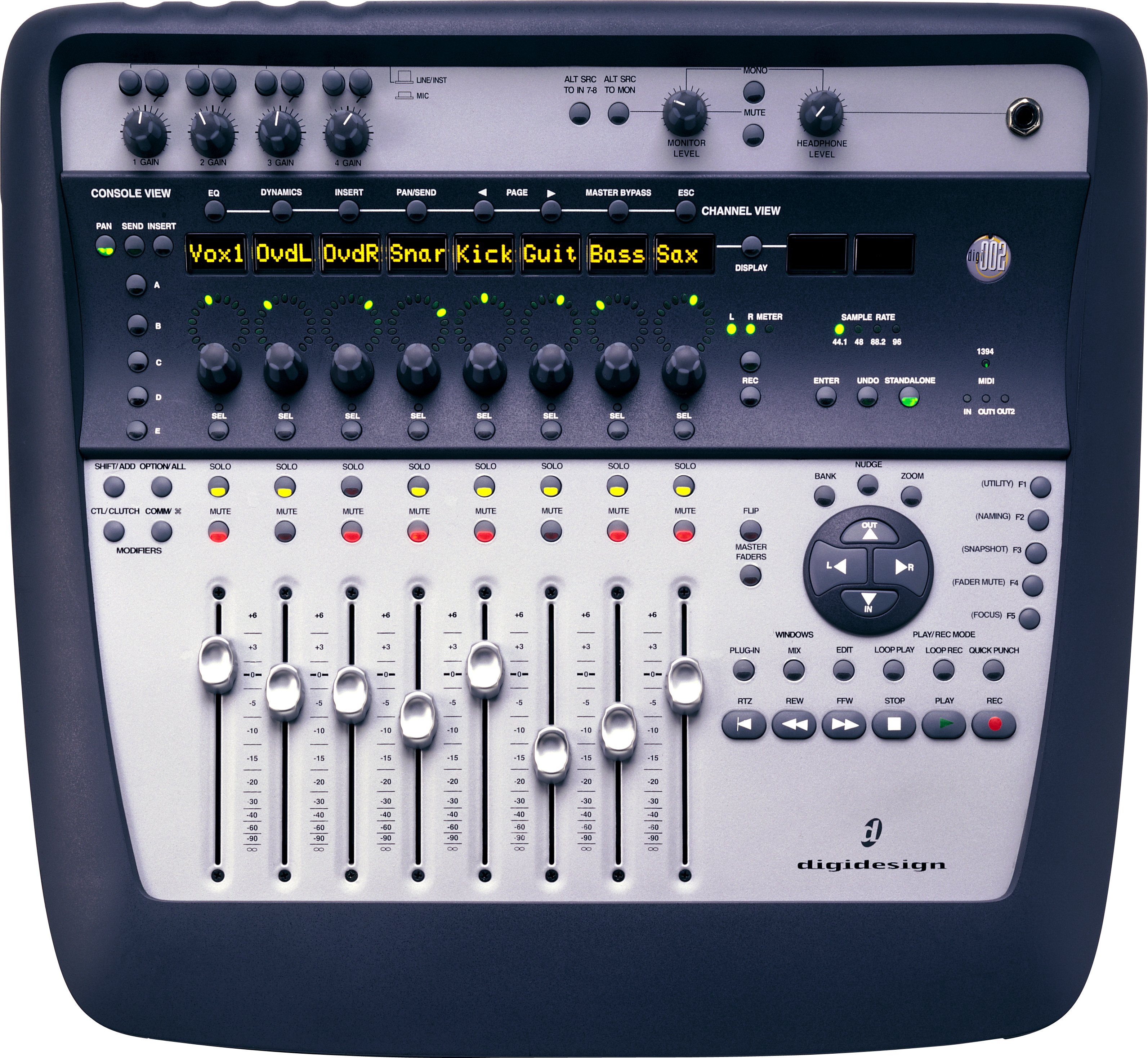 This is pretty much the best thing to happen to me as for as audio production goes. I used a mbox from 2005 to 2010 and a mbox2 from then until now. So this a major step up for me, and I must say I love it. 
One of the perks of this upgraded system is that I can open the session files for Abraham's 5 False Alarms E.P. It was originally recorded in a studio and the mbox wouldn't support the program files. Well now I can open them and I plan on doing some mixing/remixing. This E.P. has never been released due to it's being unfinished. I'm going to get into it and make some Pop Tronics remixes to possibly release. I'm probably going to have to build drum tracks and add synthesizers/guitars where needed. I'm really excited. Abraham was a great band to be a part of and I'm happy to be working on Abraham music once again. 
Feb 06
Wyckoff Heights Reprisent
As some of you may know I recently spent 15 days in a hospital. During the first week I had my MC-505 Groovebox. With it I created these two songs about my stay at the hospital. 
Hospital Bed (Week One) is about sitting and waiting until I could get my surgery.
I.V. Drip (Week Two) is about being fucked up on morphine while recovering.
Here's a Photo of my scar.
Jan 31
[video]
Dec 21
[video]
Dec 19
[video]
Dec 13
[video]
Dec 07
New Studio
I know I promised more content, and that's what I'm attempting to provide. As I stated in my last post I've recently moved into a new studio.
I call it the Boom Bap Womp Womp Room, which is a fairly accurate representation of the sounds it will be generating.I've also recently updated the brain of my drum kit from the very old TD-7 model to the updated TD-6 model. This means improved response and drum quality. I will be attempting to record my drums into a sequencer and working from there. Hopefully with stunning results.
The John Bohner song is bounced and ready to be uploaded later this week. Keep your ears open for that one. I will also be finishing up the Remix of Abraham's When Bikes & Cars Collide. Then all new material for 2012.
Hip Hop Hooray Ya'll
Nov 15
Pop Tronics Returns Again
Hello anyone who actually reads or listens to the things I post here. I haven't posted anything here in three months. I think it's a damn shame, but sometimes life gets in the way of your hip hop blog. That being said I will do my best to generate some new content. I have a few songs you haven't heard including a rant about John Bohner by Not Blood Paint's George Frye,a remix of an Abraham song, and a song about texting. I am moving into a new space which should allow me to focus more on beats and rhymes. Who knows what new music 2012 will bring.
In the mean time I would like to share my favorite album of 2011, Wugazi
It's a mash-up of two of my favorite bands, Fugazi and Wu-Tang Clan. Mashed by Cecil Otter and Swiss Andy. Because it's a mash-up it's completely free. This album leaves me wondering what Rap/Rock could have become if it had been done correctly. Seriously check it out. It's free so why wouldn't you. Maybe next they'll make Fear Of An Out Of Step Planet.
Jul 30
[video]
Jul 25
[video]
Jul 07
Nick Link's History of Hip Hop (Part Seven)
KRS ONE
First off KRS ONE is an acronym for Knowledge Reins Supreme Over Nearly Everyone. Knowledge is his thesis on hip hop. KRS comes from The South Bronx, hip hop's birthplace. He not only brings some of the best music to the table, but also makes a point of educating his audience. Educating them on history, violence, hip hop, and the police. KRS ONE made an active effort to make a difference in his community by talking about what he saw happening around him. KRS ONE and DJ Scott La Rock founded Boogie Down Productions and released the classic album Criminal Minded in 1987.
Criminal Minded featured South Bronx and The Bridge is Over which stared on of the first hip hop wars between BDP and The Juice Crew. In The Juice Crew's song The Bridge they state that hip hop began at The Queensboro Bridge. These wars come to a sudden stop after DJ Scott La Rock was shot and killed during the making of their second album By All Means Necessary. After the death of his best friend KRS ONE stopped making violent music and started focusing on socially conscious music. Also around this time he started using the moniker The Teacher. By All Means Necessary is widely seen as the first politically conscious hip hop album. KRS ONE has been hugely influential in provoking political and social consciousness although sometimes overshadowed by Public Enemy. KRS ONE also went on to start the Stop The Violence campaign which featured many prominent hip hop artists.
In 1993 KRS ONE released his first solo album with out Boogie Down Productions and has continued to do so since. His most recent release L.A.B. Lyrical Ass Beating came out last year in 2010. In 1991 KRS ONE was featured on R.E.M.'s Radio Song and in 1992 Bradley Nowell released a song titled KRS ONE which featured sample of KRS ONE. KRS ONE's influence goes well beyond the hip hop world.
R.I.P. Scott La Rock